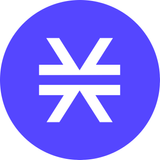 Stacks is a layer-1 blockchain solution that uses Bitcoin as its base layer and designed to bring smart contracts and DApps to Bitcoin.
Stacks is a layer-1 blockchain that allows for the execution of smart contracts. In contrast to commonly known smart-contract blockchains like Ethereum, Cardano, Solana, or Avalanche, Stacks is associated with the Bitcoin ecosystem because it aims to enhance Bitcoin's capabilities by building on top of it.

While this goal might be similar to that of Bitcoin sidechains, drivechains, or second-layer solutions, being a layer-1 blockchain itself, Stacks has a unique way of achieving this. The project has its own nodes, its own network, its own miners as well as its own coin. Contrary to different Bitcoin sidechains, Stack's coin (STX) is not pegged to on-chain BTC. The connection to Bitcoin is established as follows: The Stacks blockchain uses the Bitcoin base-layer blockchain as a reliable storage and broadcast medium, meaning that everything that happens on Stacks (the transaction history compiled in Stacks blocks) is recorded on Bitcoin itself.

Market cap
Trading volume 24h
Fully diluted market cap
All time high price
69.03%
All time low price
2,202.53%