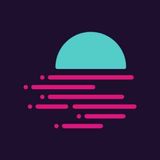 Moonbeam is an Ethereum-compatible smart contract Polkadot parachain allowing developers to deploy and interact with smart contracts in an environment that closely resembles Ethereum.
Moonbeam is a smart contract parachain built on the Polkadot network, utilizing the Delegated Proof of Stake (DPoS) consensus mechanism. It offers a seamless Ethereum-compatible environment, enabling crypto projects to leverage Ethereum's Web3 API and Ethereum Vrtual Machine (EVM) with minimal modifications.

As a parachain, Moonbeam operates as a Layer 1 chain connected to Polkadot's Layer 0 Relay Chain, benefiting from the network's scalability and interoperability. By utilizing an Ethereum-compatible environment, developers can easily migrate workloads from Ethereum to Moonbeam, opening up new possibilities for decentralized applications.

Built on the flexible and customizable Substrate blockchain framework, Moonbeam empowers developers to tailor their blockchains according to their specific requirements. This includes the ability to incorporate features such as on-chain governance, EVM implementation, and staking.

Market cap
Trading volume 24h
Fully diluted market cap
All time high price
98.65%